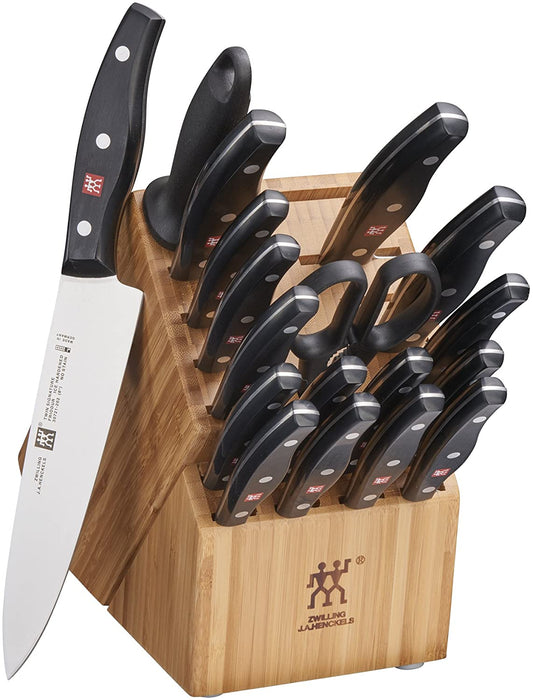 ZWILLING TWIN Signature 19-pc, Knife block set
The 19-piece block set features all the knives you need to set your kitchen up right. From the small bird's beak peeling knife for precise, intricate cuts to the all-rounder 8-inch chef's knife for slicing and dicing, this set contains the key knives for all tasks, along with a sharp and sturdy set of 8 steak knives, kitchen shears, and a sharpening steel to keep your fine edge knives in tip top shape. The set comes housed in a handsome wood knife block.

TWIN Signature knives are precision stamped from a single piece of proprietary special formula German steel, resulting in lighter weight knives that do not compromise sharpness. Combined with the ZWILLING signature ice-hardening technique, these FRIODUR blades are harder, sharper, they will NOT STAIN or chip, and they retain their sharpness longer. To ensure an ideal cutting angle, the sharp laser-controlled edge is honed and hand-finished by the most skilled artisans. The three-rivet handle embedded with the ZWILLING logo provides optimum durability.
Includes 2.75-inch bird's beak peeling, 4-inch paring, 4.5-inch utility, 5-inch serrated utility, 6-inch utility, 7-inch hollow edge santoku, 8-inch chef's, 8-inch bread, 8 x 4.5-inch steak knives, kitchen shears, 9-inch sharpening steel, and 20-slot wood block.
Special formula high carbon NO STAIN steel
One-piece precision-stamped blade for a lighter weight knife without sacrificing strength
Ice-hardened FRIODUR blade starts sharper, stays sharper longer
Ergonomic polymer handle is perfectly bonded to full tang
Ergonomic polymer handle is perfectly bonded to full tang
57 Rockwell Hardness = excellent edge retention
Made in Germany