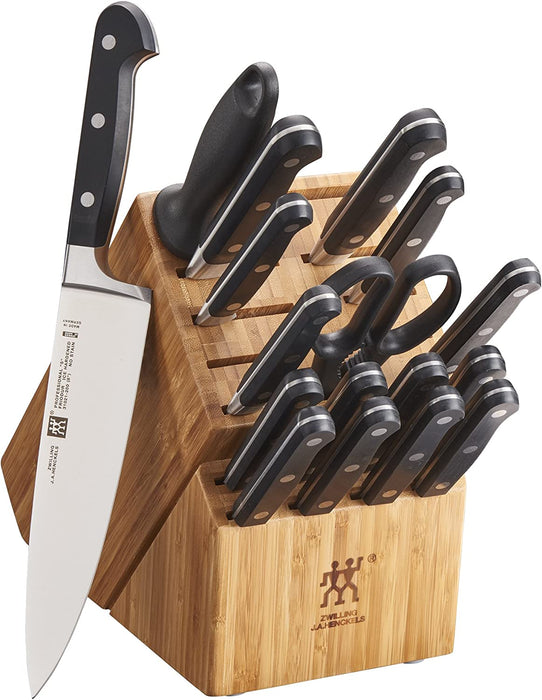 Zwilling J.A. Henckels Professional S Knife Block Set, 18 Piece, Black
Zwilling J.A. Henckels Professional S 18-Piece Knife Block Set provides a professional quality knife block set for home cooks and restaurant chefs alike. Manufactured in Solingen, Germany, these knives features a special formula high carbon stainless steel construction for a long lasting and durable product. The patented SIGMAFORGE® process forges the knives from a single piece of steel while the FRIODUR® ice-hardening process ensures the blade stays sharp. The precision honed and laser controlled edge ensures ideal cutting angles for top performance while the ergonomic polymer handle offers a comfortable grip with good balance.
Professional "S" are the classic professional kitchen knife for home or restaurant use. The knives are made from a proprietary German steel that has been perfected for more than 280 years and are hand finished by the most skilled artisans. The laser controlled edge is incredibly sharp as the ice-hardening technique creates a sharper blade that won't chip or stain. With an exceptional 57 Rockwell Hardness for superior edge retention and an edge angle of 15°, each Professional "S" knife is extremely sturdy, balanced, and flexible for top performance and smooth control.
The Knife Block Set is a building block for every chef's kitchen. The beautiful wood knife block features a classic design to proudly display your knives. Included as part of the knife block set are the 2.75-inch bird's beak peeling knife, 2.75-inch trimming knife, 4-inch paring knife, 5-inch serrated utility knife, 5.5-inch santoku knife, 8-inch bread knife, 8-inch chef's knife, 9-inch honing steel, kitchen shears, (8) Twin Gourmet stamped steak knives, and 16-slot walnut knife block.
Features
Forged German Steel - Patented special formula high carbon stainless steel construction
SIGMAFORGE® Construction - The knife is forged out of a single piece of no stain steel for a superior construction and balance
FRIODUR® Hardened Blade - Ice-hardened blade provides extremely long lasting sharpness
Superior Hardness - High quality 57 Rockwell Hardness ensures an exceptional edge retention
Polymer Handle - Ergonomic handle is bonded for seamless accuracy and good balance
Laser Honed Blade - Precision honed and controlled blade edge features a 15° edge angle
Includes - 2.75-inch peeling knife, 2.75-inch trimming knife, 4-inch paring knife, 5-inch serrated utility knife, 5.5-inch santoku knife, 8-inch bread knife, 8-inch chef's knife, (8) stamped steak knives, 9-inch honing steel, kitchen shears, and knife block