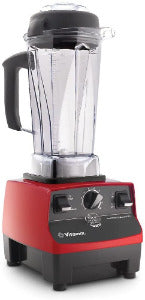 Vitamix CIA Professional Series Blender, Red
Vitamix and the Culinary Institute of America have partnered to bring you the CIA Professional by Vitamix. The CIA has trained more than 37,000 chefs and foodservice professionals, including many celebrity chefs. Ordinary blenders can't begin to approach the speed nor the results you'll enjoy while using the powerful CIA Professional by Vitamix machine. Like no other kitchen appliance available, the CIA Professional by Vita-Mix multi-tasking appliance will unlock the deep rich flavor treasures hidden in all your select ingredients. You can create dishes the way professional chefs do. It easily handles the work of many appliances so you can blend, puree, chop, juice, grind and more, all in this one versatile machine! Included is an exclusive new recipe book, "Recipes and Techniques from the CIA Master Chefs". The book features more than 20 recipes developed by the CIA's Certified Master Chefs. The CIA Professional by Vitamix also comes with "Create", an easel-design recipe book which saves counter space and is packed with over 300 easy-to-prepare recipes from some of the country's top professional chefs, including Joanne, Weir, Michael Symon and Hugh Carpenter. Instructional DVD and owner's manual included. "It's not a blender - It's a Vitamix!"

Enjoy the only blender trusted by the Culinary Institute of America to train the next generation of professional chefs, with the ability to process the variety of textures and ingredients that master chefs require. Vitamix blades go through a three-step engineering process to achieve the greatest strength and longevity. We start with aircraft-grade hardened stainless steel. Then we harden it, polish it, and precisely laser cut it along the metal's grain.Join the Vitamix chefs and thousands of owners on our social pages to share recipes and get answers to your pressing culinary questions. With the Variable Speed Control easily adjust speed to achieve a variety of textures. The dial can be rotated at any point during the blend, so you're in complete control.