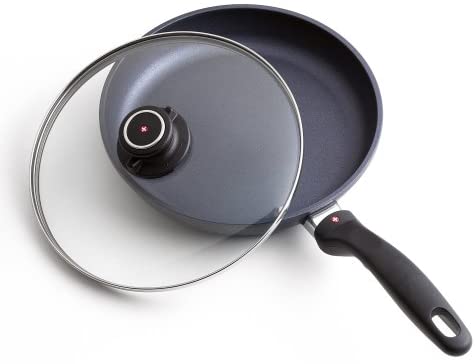 Swiss Diamond Fry Pan with Lid - 10.25"
Craving Pasta da Vinci - but not the time it always takes to clean up after a cream sauce? Swiss Diamond's 10.25 inch (26 cm) skillet is your go-to partner for easy cleaning and perfect pasta sauces every time! It's true, just hand wash with a bristle brush or sponge and dish soap. Heavy duty aluminum spreads heat evenly around the pan, so your sauce won't scorch. Whether you have a ceramic stove, glass top range, or even gas burners, this pan will meet your needs. It will soon become your favorite cooking companion, as you discover how easy it can be to prevent burning and reduce wash time. It also makes an ideal gift for Christmas, Hannukah, Kwanza and other holidays, because it's made to stand the test of time.
Our most famous pan with enough room to cook for 4, yet small enough for that morning omelet.
Item #:

6426c

UPC #:

7640119212654

Dimensions:

26cm (10.25")

Weight:

1.92kg (4.25lbs)

Depth:

4cm (1.57")

Volume:

1.8l (1.9qt)

Lid:

Heat-tempered glass (10.25")

Oven-safe:

Up to 500°F (260°C)

Cleaning:

Dishwasher safe; hand wash recommended

Recommended Stovetops:

Gas, Electric, Radiant Ring, Ceramic, Halogen