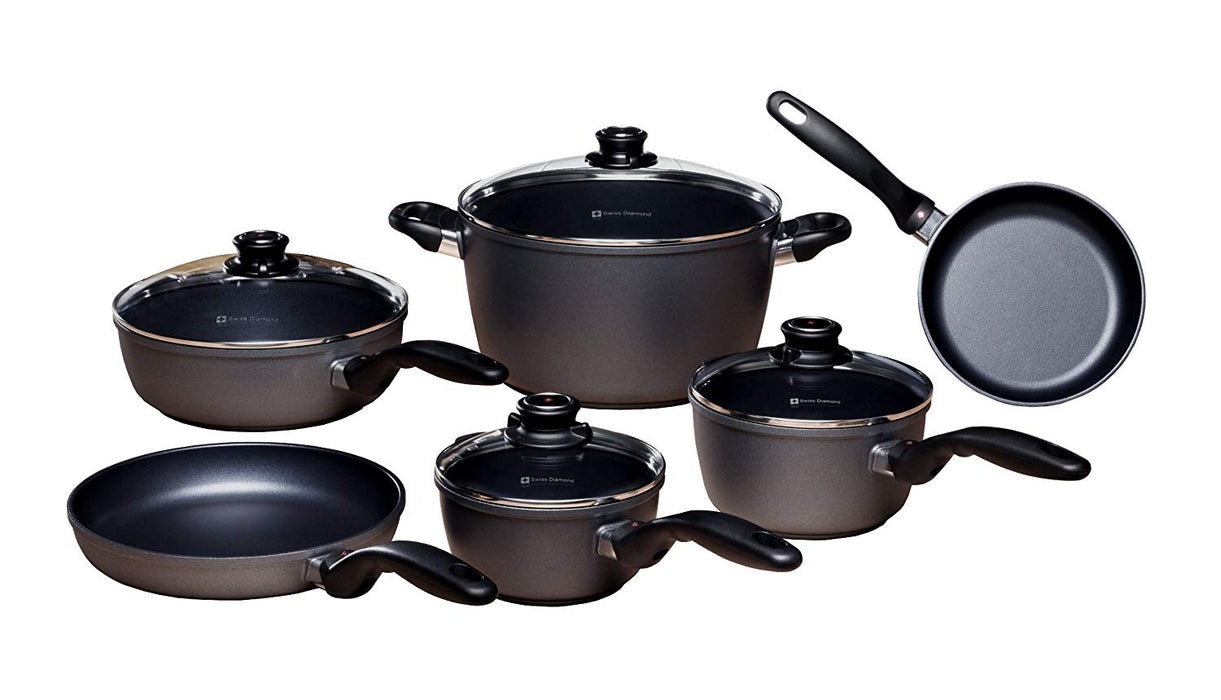 Swiss Diamond 10 Piece Set: Ultimate Kitchen Kit
With Swiss Diamond's patented diamond-reinforced nonstick coating inside and out for easy cleaning, this 10-piece cookware set outfits a kitchen with all of the basics while promoting healthy, low-fat cooking. The set contains:
8 inch Fry Pan perfect for individual meals or side dishes

Larger 9.5 inch Fry Pan for main courses

3.2-quart Saute Pan for mixed dishes and steamed vegetables

9.5 inch Lid that fits both the large skillet and the saute pan

1.4-quart Saucepan for sauces and gravies

Lid that fits the 1.4qt sauce pan

Larger 2.2-quart Saucepan with Lid for larger quantities of sauces and soups

Lid that fits the 2.2qt Sauce pan

8.5-quart Stock Pot for pasta and main course stews

Lid that fits Stock Pot
Ergonomic stay cool handles are a staple on all Swiss Diamond cookware, and are oven-safe to 500 degrees F. Swiss Diamond pans are made of cast aluminum, therefore they cook food evenly without hot spots and resist warping.
The following model #s are in the set: 6420, 6424, 6724c, 6716c, 6718c, 6128c.
The Swiss Diamond 10 Piece Set is packed with all of the durable essentials every at-home chef requires.
Item #:

SD6010

Dimensions:

N/A

Weight:

8.30kg (18.30lb)

Depth:

N/A

Volume:

N/A

Oven-safe:

Up to 500°F (260°C)

Cleaning:

Dishwasher safe; hand wash recommended

Recommended Stove Tops:

Gas, Electric, Radiant Ring, Ceramic, Halogen
Nonstick Cookware You'll Love!
Swiss Diamond's Nonstick Coating
Swiss Diamond's coating is produced using a coating formulation developed in our lab in Switzerland and a production process pioneered in our Swiss manufacturing facility. The result is a significantly tougher cooking surface with even better food release properties. Swiss Diamond is the result of many years of research and development. Swiss Diamond is a labor of love, produced using not only a new nonstick diamond-reinforced coating formulation but also an advanced production process.
Swiss Diamond Nonstick Cookware
You'll notice the difference the first time you use it!
Swiss Diamond is a high-end cookware and kitchenware brand established in 2001, manufactured in Sierre, Switzerland. The brand name originates from its Swiss origin and its revolutionary nonstick coating made with diamond crystals for durability, superior heat conduction, and a long-lasting nonstick surface. Committed to meeting consumer needs by using safe, high-quality materials, Swiss Diamond emphasizes quality and traditional European craftsmanship.
Made in Switzerland

Ideal for healthy cooking without oil.

Oven-safe up to 500°F (260°C).

Tempered glass lids with adjustable steam vent

The patented diamond-reinforced nonstick coating for durability, easy clean up, superior browning and searing.

Utilizes the physical properties of real diamonds in a nanocomposite.
Swiss Diamond Pan Construction
Swiss Diamond Nonstick is constructed of multiple layers of specially developed and carefully selected materials. Our Classic cookware begins with a cast aluminum foundation. Liquid metal is cast into molds under high pressure so it will never warp. This produces a perfectly flat base resulting in even heat distribution. The foundation is then sandblasted and prepared for plasma coating, which eliminates oxidation and forms an extremely strong bond with our proprietary nonstick coating. Finally, each piece is finished with three layers of our, diamond reinforced, PFOA free, patented, nonstick coating.