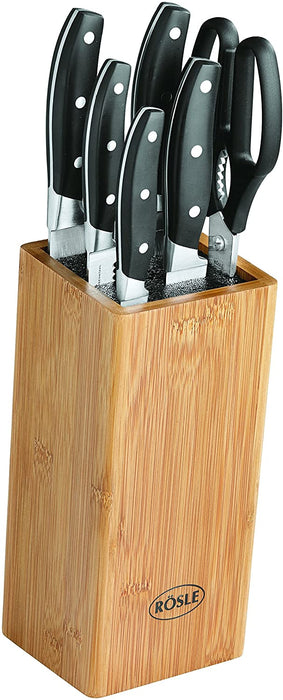 Rosle German Knife Set in Bamboo Block, 5-Piece Set plus Scissors
PERFECT KITCHEN SET: A must have in every kitchen, no more draws overflowing with all sorts of knives, have all you need in one set. The German brand Rösle brings EFFICIENY and STYLE to your kitchen.
EXPAND YOUR KNIVES LIFE IN THE KITCHEN: High quality knives should be stored in a way that the blades cannot touch one another as well as not posing a risk when taken out of the block.
STORAGE SPACE: The Rösle Knife Bock Set enables you to have more space in your kitchen.
CLEVER GERMAN RÖSLE INSERT: The knife Block comes with a bristle insert for the 5 knives and scissors. It is easy to remove and simple to clean.
THE SCISSORS/SHEARS: The micro serrated Scissors guarantee neat, precise cutting results. Its versatile plastic handles sit ergonomically in your hand. They are also suitable for left hand users. Blade length 10 cm / 3.9''
THE MULTI-PURPOSE KNIFE: Has a sharp serrated blade that effortlessly cuts through tough-skinned fruit and vegetables as well as hard cold meats such as Salami. Blade length 13 cm / 5.1''
THE PAIRING KNIFE: Used for chopping, turning and peeling fruit and vegetables. With a straight blade for excellent cutting results. Blade Length 9 cm / 3.5''
THE CARVING KNIFE: Its robust, slender, drop point blade is ideal for carving all types of meats and roasts. Blade length 18 cm / 7''
THE CHEFS KNIFE: Has a wide, drop point blade suitable for cutting meat, fish, poultry and vegetables. Also great for chopping herbs and nuts. Blade length 20 cm / 7.8''
THE BREAD KNIFE: Used to cut any sort of bread: rolls, buns or baguettes. Blade length 20 cm / 7.8''
This knife block includes 1 Multi-Purpose knife, 1 Pairing knife, 1 Carving knife, 1 Chef´s knife, 1 Bread knife and Kitchen Scissors and the Bamboo Block.