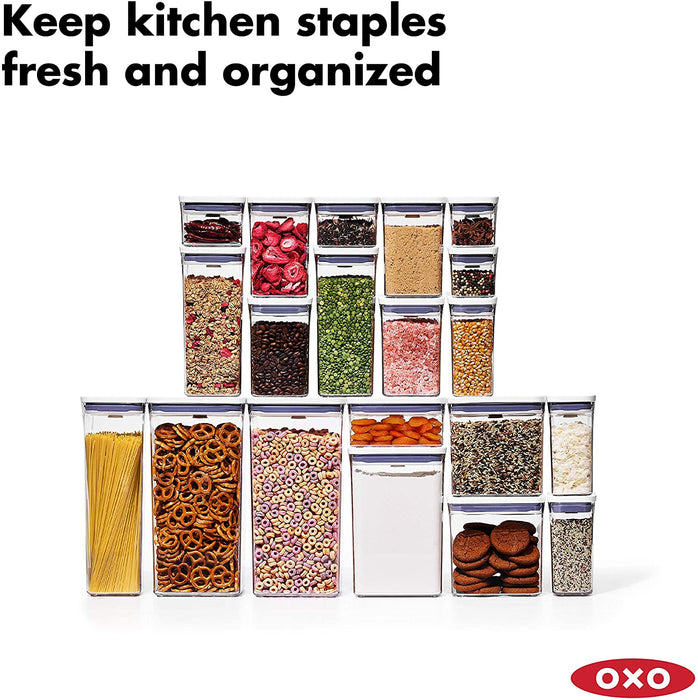 OXO Good Grips 20-Piece POP Container Set
The OXO Good Grips 20-Piece POP Container Set is an organization game-changer. Perfect for registries, new shapes and sizes mean new possibilities for storing everyday must-haves like flour, sugar, coffee, cereal, oatmeal, coffee, grains, pasta and spices. Airtight, stackable, space-efficient, and now completely dishwasher safe, these Containers can be customized to fit any space. We refreshed POP to include a handy fill line and kept the curved corners for smooth dispensing. BPA-free POP Containers aren't just for kitchens: use them any place you want more organization. For best results, always use the button to open and close. Do not carry POP Containers by the lid.
Set includes: two 0.2 Qt Containers, one 0.4 Qt Rectangle Container, one 0.4 Qt Square Container, one 0.5 Qt Container, one 0.6 Qt Container, two 1.1 Qt Containers, two 1.2 Qt Containers, two 1.7 Qt Rectangle Containers, one 1.7 Square Container, one 2.2 Qt Container, one 2.7 Qt Container, two 2.8 Qt Containers, one 4.4 Qt Container, two 6.0 Qt Containers.
We expanded the possibilities of POP with a line of eight solution-based accessories that conveniently attach to lids. Accessories sold separately.