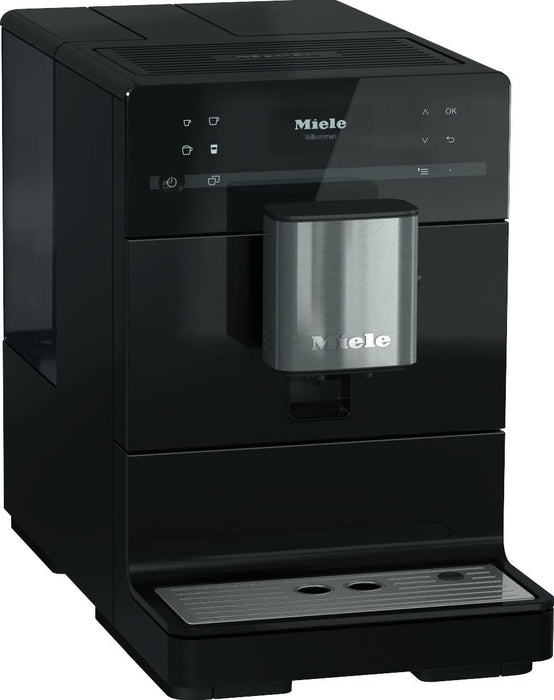 Miele CM5300 Coffee System, Medium, Obsidian Black
From the manufacturer
Features
OneTouch and OneTouch for Two

All Miele Countertop Coffee Machines feature the OneTouch and OneTouch for Two function. This allows you to make two delicious coffee specialties at the same time with only one touch of a button. Preparation takes less time, giving you more time for enjoying a delicious coffee drink with company.

DirectSensor Control Panel

DirectSensor controls with modern touch functions offer maximum convenience on the CM5 models. All control elements are clearly and concisely arranged around the clear text display. Navigation is simple and intuitive with four main beverage symbols for selection and additional functions below the display.

Brewing Specialties

The options feel endless when it comes to the capabilities of the CM5 with coffee specialties including espresso, coffee, long coffee, ristretto, cappuccino, latte macchiato, café latte, hot milk & milk froth.
Additional Features
Coffee Pot Function

The Coffee Pot function is great for having visitors. At the touch of a button, your appliance dispenses up to 8 cups of coffee, one after the other, into a coffee pot placed under the spout. The stainless steel coffee pot is sold separately.

AromaticSystem

More room for more taste. The brew chamber of Miele coffee machines expands when water flows in. The ground coffee is mixed very thoroughly with the water allowing the coffee aroma to unfold even better. You can look forward to enjoying wonderfully aromatic coffee.

Easy Cleaning

With a dishwasher-safe drip tray, removable brew unit, and Automatic Cleaning programs, machine hygiene is simple to maintain. The easily removable components guarantee cleanliness and excellent coffee flavor cup after cup.
Experience Miele Quality
Miele has embodied first-class quality and German engineering since 1899. Miele appliances are designed to deliver exceptionally high quality and a long service life.