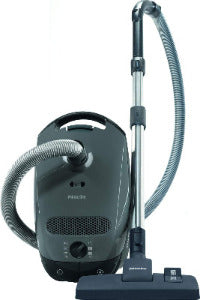 Miele Classic C1 Pure Suction Canister Vacuum Cleaner, Graphite Grey
The Classic C1 Pure Suction cleans powerfully with a 1,200-W Miele-Made Vortex Motor - which works to increase power efficiency to the selected power level.
Suction Control
The suction power can be easily adjusted to the surface being cleaned with the 6-setting Rotary Dial located on the vacuum. The usage of the Rotary Dial enables optimal cleaning results
Combination Floorhead
Ideal for both hard floor and low-pile carpet. A foot switch allows you to switch from hard floor to carpeting with ease. Includes a metal sole plate for easy gliding across surfaces and rubberized wheels to prevent scratches on flooring.
AirClean System
The Miele AirClean System, consisting of a genuine Miele FilterBag, motor protection filter and AirClean exhaust filter, ensures maximum Filtration. The room air is cleaner than it was before vacuuming. With the self-sealing collar, no dirt and dust can escape once it is vacuumed into the FilterBag.
Cleaning Radius
The long, electrical cord and stainless steel wand assist the vacuum in reaching an impressive cleaning radius of 29.5 feet. Attach one of the three additional accessories to the end of the wand and vacuum blinds, ceiling fans and hard to reach shelving.