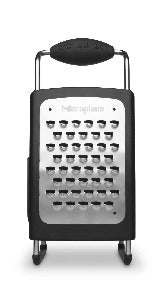 Microplane Box Grater Large 10 inch 4-Sided Stainless Steel Ultra-Sharp Multi-Purpose Grater
All you Need: Includes three of the most commonly used grating blade surfaces (ultra-coarse, fine, ribbon), plus one slicing blade. With these original, ultra-sharp, photo-etched made in USA blades your grating experience won't be dull. The handle is easy to grip, and included is a cover to keep hands safe when the unit is stored.
Easy to Clean: The fine blade panel detaches. This feature allows you to clean all the nooks and crannies where cheese and vegetable particles can build up. Plus this item can go in the dishwasher with no fear of rusting since the blades are stainless steel.
Cheese Grater: Use the ultra-coarse blade as a cheddar cheese grater. It can grate any soft cheese, and does it fast and efficiently. This versatile blade is also perfect for grating potatoes for hash browns, or cabbage for coleslaw.
Citrus Zester: the fine blade included is perfect for zesting citrus, and grating parmesan or other hard cheese. This zester grater blade is useful in countless ways, use to mince garlic, ginger, or grind spices like nutmeg.
Chocolate and Vegetable Grater: The ribbon blade is a bi-directional blade, which makes is used to curl chocolate, or grate zucchini for zucchini bread. The size of the blade, combined with two-way cutting makes piles of food fast.