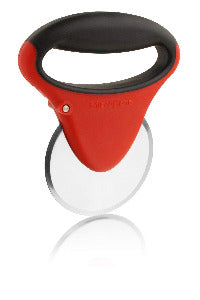 Microplane 48105 Pizza Cutter
DEEP DISH or THIN CRUST: The diameter of the blade is about 4", making it one of the largest on the market. What makes bigger better? Less time cutting. As the tool rolls, it cuts deep and requires less rotations. The sharp beveled edge cuts through the toughest crusts and stringiest cheeses.
PATENTED, REMOVABLE BLADE: No more stuck on cheese and sauce where the handle and blade meet! We solved this common issue by making the blade completely removable for easy cleaning! US Patent D614,460
SOFT, EASY HOLD GRIP: A soft touch, easy grip handle's position over the blade means less pressure needed.
NOT JUST FOR PIZZA: Use this Pizza Wheel to cut quesadillas, pan or sheet cakes, as well as casseroles and giant cookies.
DISHWASHER SAFE: Place handle and blade in the dishwasher - recommended to hand wash the cover as needed.