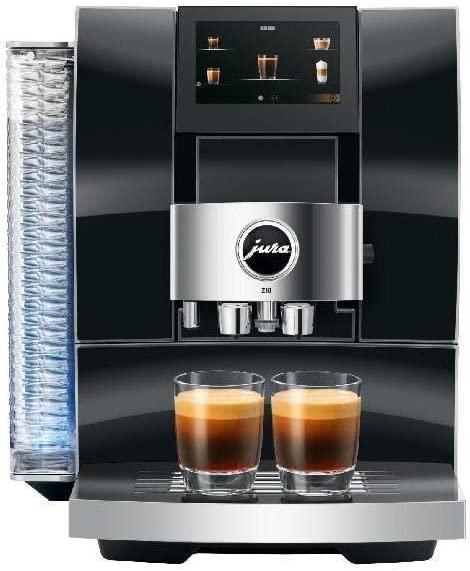 The JURA Z10 – A World First
First automatic coffee machine to brew both hot and cold, offering 32 specialties at the touch of a button, always freshly ground
Exclusive brewing technologies, including a Product Recognizing Grinder, advanced brewing unit and unique Cold Extraction Process for genuine cold brew specialties in record-breaking-time
Prepares delicious cold brew specialties using cold water bypassing the heating element, pulsing at a slower frequency through coarse coffee grounds
Enjoy a completely new way of experiencing cold brew specialties – refreshing, energizing and with a wonderfully balanced aroma
Product Recognizing Grinder automatically adjusts the grind for the chosen specialty – fine for espresso, medium for Americano and coarse for cold brew
Uncompromising quality, durability, high-quality materials and maximum engineering precision demonstrate the highest standard of craftsmanship
Product Recognizing Grinder (P.R.G.)

In a fraction of a second, this electronically controlled high-performance grinder adjusts to the ideal grind for the chosen specialty. The adjustment is automatic, from very fine for espresso to very coarse for cold brew specialties. There is also an option to select the grind before each preparation with the Aroma Selection feature.

Genuine cold brew for refreshing taste

Unlike conventional cold coffee drinks made from hot-brewed coffee that is then chilled, the Z10 offers genuine cold brew extraction. Cold water is slowly pulsed at high pressure through coarsely ground coffee. The result is a natural, energizing and refreshing beverage, with fruity coffee aromas.

Eighth-generation brewing unit

The brewing unit is the most important part of any automatic coffee machine, and JURA's eighth-generation brewing unit makes the Z10 stand out. With its unique 3D brewing technology, it allows water to flow evenly through the ground coffee at multiple levels. This makes the most of the aroma of hot specialties and cold brew.

Lasting elegance

JURA design is fresh, modern and classic. Uncompromising quality, durability, high-quality materials and maximum engineering precision demonstrate the highest standards of craftsmanship. The water tank, with its elegant wave design and the harmonious filter casing, exemplifies the brand's attention to detail.