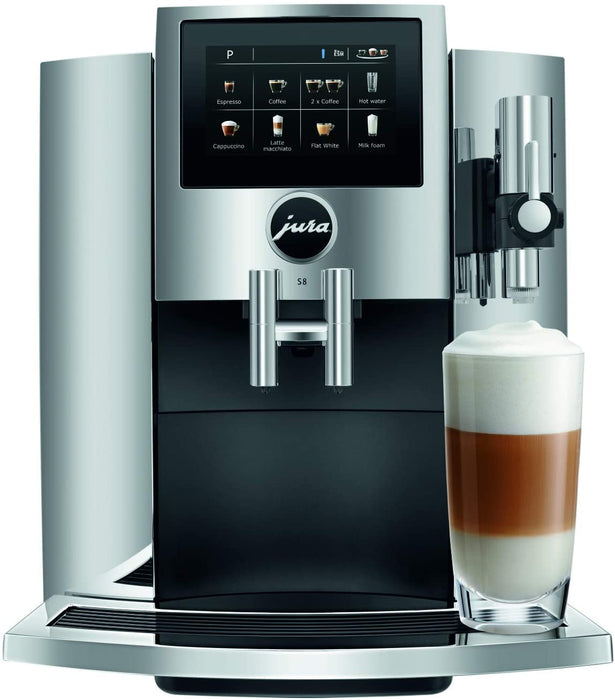 JURA S8 Automatic Coffee Machine, Chrome
Why JURA is the leader in Automatic Coffee Machines
Individual cup brewing
Automatically grinds whole beans, tamps and freshly brews each cup for optimum flavor and aroma
One-touch preparation
Prepares perfect coffee specialties at the touch of a button, in less than 60 seconds
Programmable and adjustable
Personalized brewing strengths, volumes and height adjustable coffee spout
Perfect milk foam
Produces perfectly rich milk foam for one-touch cappuccino, latte macchiato, flat white
Cost savings
Prepares professional coffee shop beverages at a fraction of the cost
| | | | |
| --- | --- | --- | --- |
| The S8 features a high resolution touchscreen color display with 8 programmable positions – intuitive press & hold accessibility accesses all programming from coffee, strength, volume and more | Professional Fine Foam FrotherG2 and Operating Instructions guide the user through the preparation steps of preparing perfect milk specialties with ultimate quality milk foam or steamed for cappuccino, latte macchiato and flat white | Ultimate coffee quality thanks to JURA's exclusive technologies – Pulse Extraction Process, twice as fast AromaG3 grinder and Intelligent Water System with CLEARYL Smart filter | Compatible with Smart Connect for use with JURA's free and exclusive app J.O.E. (JURA Operating Experience) allows you to operate the machine from your smartphone or tablet |
Ultimate Milk Quality
JURA's Professional Fine Foam FrotherG2 features innovative fine foam technology delivering ultimate quality milk foam or steamed milk to perfectly top milk specialties.
Dial positioned vertically produces finely textured milk foam with long-lasting consistency for classic cappuccino, trendy flat white and latte macchiato.
Dial positioned horizontally heats milk for on-trend specialties like flat white, latte macchiato and lattes.
Operation Instructions (OI) are optional and displayed on the screen prior to beverage preparation

OI advise the user which way to position the dial based on the specialty they're preparing

Perfect milk quality every time

Manual transition allows the user to have full control of milk texture

Durable and easy to maintain