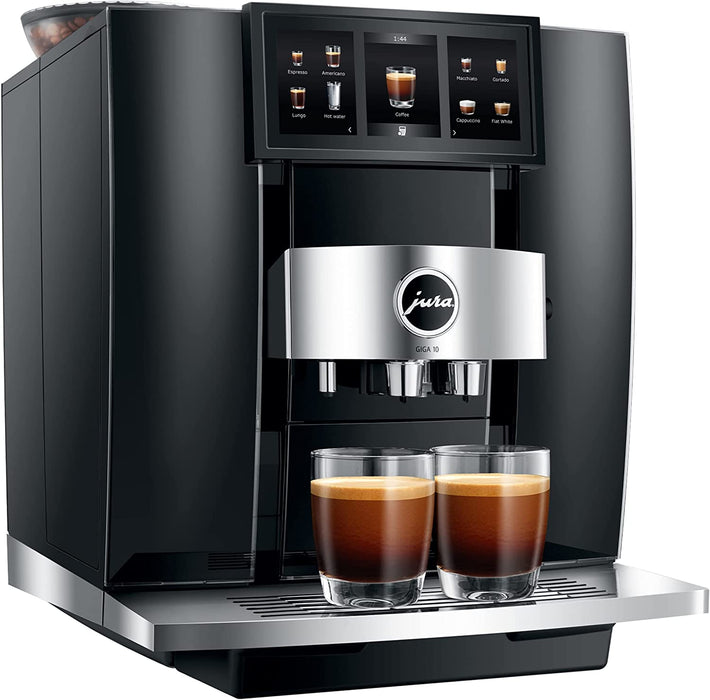 Jura GIGA 10 Diamond Black
JURA GIGA 10 – The embodiment of a unique coffee experience
Brews the full spectrum of hot and cold brew specialties at the touch of a button – 35 specialties.
Revolutionary Cold Brew Extraction Process pulses cold water through coarse coffee grounds for genuine cold brew specialties.
Creates the experience of barista-crafted coffee at home, focused on delicious taste – with two whole bean containers, each with its own ceramic disc grinder.
Large 6.7" touchscreen Panorama Coffee Panel for a completely new interactive user experience, with optimum clarity and maximum user friendliness.
Endless customization options: volume, intensity, percent of beans ground from each bean container, ratio of coffee to milk, and more.
Easy automatic one-touch milk system cleaning.
Equipped with Wi-Fi Connect for use with the J.O.E. app.
Recreate the taste of barista coffee at home

Experience different roasts or blends of beans and create custom flavor profiles for any coffee specialty. Each bean container holds 10-ounces of fresh, whole beans.

A completely new user experience

The intuitive touch-operated panel in a wide panorama format is designed for optimum clarity and user friendliness.

Revolutionary Cold Extraction Process

JURA's exclusive technology slowly pulses cold water through freshly ground, coarse coffee under high pressure – for refreshing, energizing taste with a wonderfully balanced aroma.

Eye-catching design and pure prestige

Crafted with luxury materials and a high-quality finish, this unique machine delivers high performance and a stunning, timeless design. Plus, 88-ounce water tank for continuous enjoyment.
Electronically adjustable ceramic disc grinders

Two bean containers, each with an electronically adjustable ceramic disc grinder, offer top-notch grinding and unlimited options for blending and grinding your preferred whole bean coffee.

Panorama Coffee Panel – 6.7" touchscreen display

Makes it easy to customize specialties by tapping and sliding through various options, such as volume, intensity, bean container, coffee to milk ratio and more.

Embodiment of a unique coffee experience

Exclusive brewing technologies – including Parallel Preparation, Pulse Extraction Process, Cold Extraction Process, and a dual Thermoblock heating system – deliver an unmatched taste experience.

High performance, low maintenance

Integrated maintenance cycles make cleaning exceptionally easy. Includes a removable container designed for automatic cleaning of the milk system.
Preparation with Aroma Selection
Cold Brew (ice crystal) – The specialty is prepared using the Cold Extraction Process, which slowly pulses cold water at high pressure through coarse coffee grounds to prepare refreshingly cool coffee specialties.
Extra Shot (bean symbol) – For this preparation method, the milk specialty is prepared with twice the amount of coffee for an extra energy boost.
Double (double cup symbol) – For this preparation method, two specialties are prepared in parallel as a one-touch function.