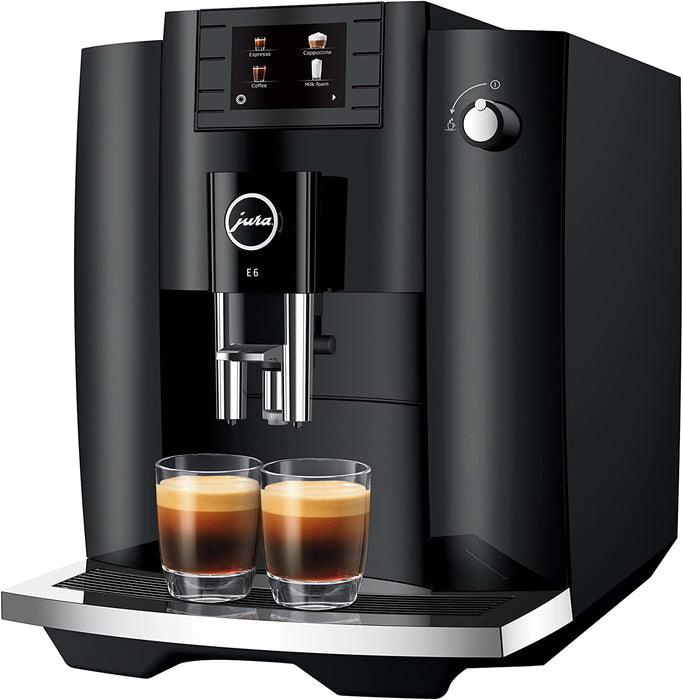 Jura E6 Piano Black 15622
Why JURA is the leader in Automatic Coffee Machines
Individual cup brewing
Automatically grinds whole beans, tamps and freshly brews each cup for optimum flavor and aroma
One-touch preparation
Prepares perfect coffee specialties at the touch of a button, in less than 60 seconds
Programmable and adjustable
Personalized brewing strengths, volumes and height adjustable coffee spout
Perfect milk foam
Produces perfectly rich milk foam for one-touch cappuccino and macchiato
Cost savings
Prepares professional coffee shop beverages at a fraction of the cost
Professional Aroma Grinder

Ensures more aromatic coffee through more consistent grinding. With JURA, coffee is always freshly ground, not capsuled – for the richer taste of brewing directly from fresh, whole coffee beans, or optional pre-ground.

Sophisticated operating concept

Straightforward user guidance make coffee preparation simple and personalized. The 2.8-inch color display makes it easy to prepare café quality coffee, with eleven beverage choices from espresso to an espresso macchiato.

Innovative Easy Cappuccino

The E6 also stands out for enhancing the cappuccino experience by creating fine milk foam and offering an Extra Shot function for more intense flavor and aroma.

Customizable

Users can customize their brew by choosing from ten programmable coffee strength intensity levels and three programmable temperature settings. Coffee strength can also be adjusted individually with each cup.
Hot water on demand

This versatile machine can also deliver hot water for tea or Americano, with three programmable hot water temperatures.

Premium craftsmanship

The timeless, elegant design makes the E6 an eye-catching feature in any kitchen. It exemplifies the innovation and quality that define the JURA brand, with its emphasis on sustainability and premium craftsmanship.

Coffee is 98% water

The CLEARYL Smart filter maintains water purity as part of the brand's commitment to maximizing quality and taste. The E6 features integrated cleaning cycles and includes a container for milk system cleaning.

Easy maintenance

The 64 oz. water tank and 10 oz. bean container are conveniently accessible from the front of the machine. The integrated maintenance programs and interchangeable milk spout ensure maximum hygiene.
Ultimate milk foam
Thanks to open switch operation, the user has total control of the preparation. Visually program or preset the amount of milk foam based on your cup size to perfectly top off your cappuccino and macchiato. JURA's innovative Easy Cappuccino system delivers perfectly frothed milk specialties cup by cup – freshly ground, not capsuled.
Fine foam technology delivers feather-light milk foam for a perfect cappuccino and macchiato every time. For the ultimate energy kick that lasts all day, use the Extra Shot function. With this, the preset volume of coffee for Cappuccino is divided in half for two grinding and two brewing cycles to achieve maximum flavor and aroma.
E6 Beverage Reference
Espresso / 2 x Espresso A full-flavored, concentrated form of coffee served in "shots" (usually 1.5 - 2 oz)
Coffee / 2 x Coffee A long pressure brewed extraction (usually 4 - 6 oz)
Caffè Barista Coffee with added water, not passing through the grounds (usually 5 oz)
Americano A long coffee with added water, not passing through the grounds (usually 7.5 oz)
Macchiato Espresso with a dollop of milk foam
Cappuccino Milk foam infused with coffee
Cappuccino Extra Shot Milk foam infused with two espressos with two times grinding and two times brewing for extra strong aroma in one cup
Portion milk foam Hot milk mixed with air to create a frothy texture
Hot water Ideal for teas