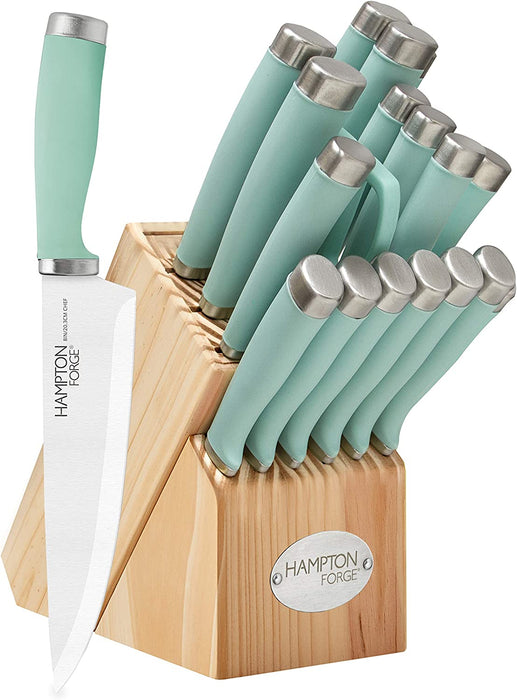 Hampton Forge EpicurePistachio–17Piece BlockSet, 17-Piece, Pistachio
Hampton Forge – Epicure Pistachio – 17-Piece Cutlery Block Set
The Epicure Pistachio 17 Piece Cutlery Block Set by Hampton Forge will quickly become one of your most prized kitchen tools. Whether you're chopping, cutting or slicing, you'll find these knives indispensable, featuring superior sharp, fine edge blades and soft grip handles. With an airy sensibility and a dash of coastal charm, Epicure Pistachio provides any kitchen connoisseur with the essentials they need to cook and prepare a feast; this set is not just functional but ultra fashionable too.
Features:
SOFT GRIP HANDLE – A pleasure to look at and a delight to hold.

STAINLESS STEEL – High quality stainless steel resists corrosion, rusting and pitting.

COLOR POP – Lighten up with a fresh pop of color in the kitchen.
Blue is the New Black
If there's one perfect moment to update your home, it's now! After years of the same old, same old now is the time to refresh your kitchen with a cool color pop. Gone are the days of all white interiors instead opt of a colorful and subtly quirky cutlery set to make a statement on your countertop and prep scene. People are moving away from the ordinary to towards patterns that are focused on modern hues in fresh combinations, with mint and blues leading the trend wave.
Tips & Usage
Chef Knife—This kitchen mainstay is for chopping, slicing, dicing and mincing.

Bread Knife—Has a serrated blade for cutting without crushing or tearing.

Slicer—With a long, thin blade with pointed tip perfect for slicing an array of meats or cutting larger fruits and vegetables.

Santoku Knife—Japanese style multi-use knife that combines the qualities of a cleaver and a chef's knife.

Boning Knife—Used for removing the bones of poultry, meat, and fish.

Utility Knife—Smaller than a chef's knife and larger than a pairing knife, it excels at everyday tasks.

Steak Knife—Serrated or straight, the only sharp cutlery that's part of a place setting.

Paring Knife—For smaller precision tasks like peeling, trimming and slicing.

Bird's Beak—For making decorative cuts, peeling, and slicing soft fruits.

Shears—Ultra sharp blades with micro serrated edge for multi-purpose cutting.
Use & Care
Wash before use—To increase longevity and appearance of your cutlery set it is recommended you wash by hand. Wash with a non-abrasive sponge and mild (citrus lemon-free) detergent and quickly dry to avoid signs of wear and tear. Never submerge cutlery in water for long periods of time or rusting occurs. Always be sure products are dry before storing.