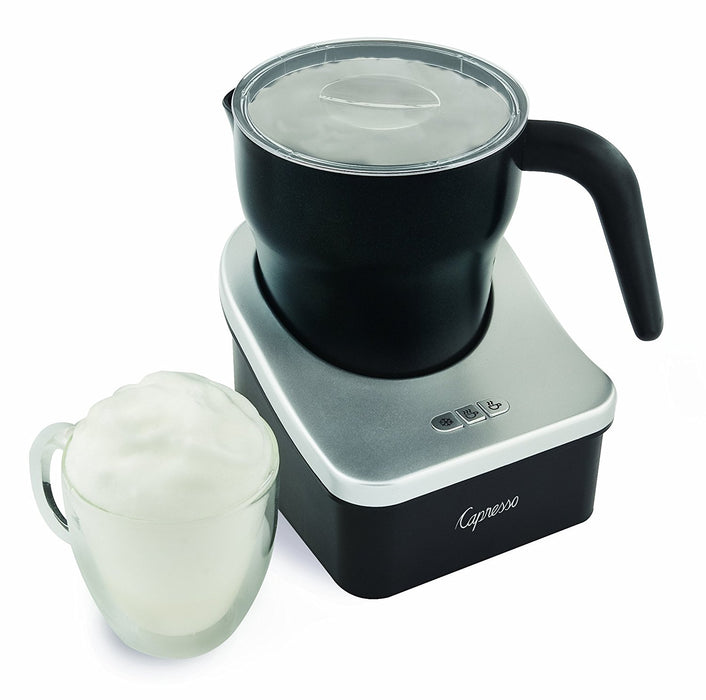 Capresso 202.04 frothPRO Automatic Milk Frother and Hot Chocolate Maker
Size:12-ounce
Froth Your Own Milk Anytime
Designed to create thick and rich frothed milk for cappuccinos, steamed milk for cafe lattes and frothy hot chocolate, the Capresso Froth Pro automatic milk frother produces professional quality results with a quick touch of a button. Three temperature settings -- hot, warm and cold -- open up a variety of options for delicious beverages with a creative touch. This stand-alone appliance is an ideal complement to any coffee maker, espresso machine or the hot chocolate lover.
Capresso Froth Pro:
Unique frothing disk delivers maximum milk froth
Dual auto shut-off for safe operation
Large Capacity -- 8 oz. for frothing or 12 oz. for heating without frothing
Scratch-resistant non-stick milk pitcher with stay cool handle
Dimensions:Measures 7.0" x 6.0" x 5.0" .
A Closer Look:
The unit features a black pitcher along with a black base with stainless steel accents and illuminated touch pad buttons. The smart design includes dual auto shut-off for safety and a storage compartment in the bottom of the base to hold the two frothing discs and one heating disc that come with the unit.
Take Care: Capresso Froth Pro comes with a dishwasher-safe removable milk pitcher with see-through lid