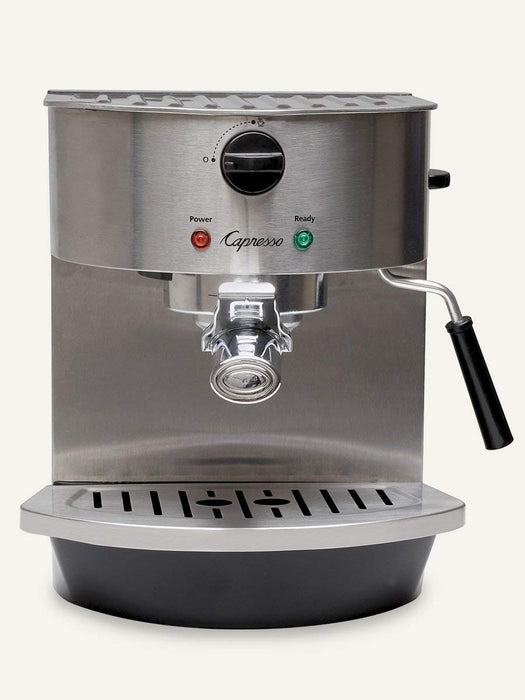 Capresso 119.05 Stainless Steel Pump Espresso and Cappuccino Machine
Advanced boiler maintains a reservoir of hot water at the perfect temperature for faster and more consistent results
State-of-the-art boiler increases brewing pressure and temperature stability
15 bar pump provides optimal pressure for rich cream, the thin layer of foam that is the mark of a perfectly brewed espresso
High pressure frothing for thick, rich cappuccinos and other coffee specialties
40-oz; removable water tank, kindly refer the user manual given below for troubleshooting steps
How Things Work
Featuring an advanced pump boiler system the Capresso Stainless Steel Espresso & Cappuccino Machine is the ideal choice for brewing café quality espresso and cappuccino at home. The larger sieve is pressurized, making it easy to achieve excellent crema even if grind size or tamping pressure isn't perfect. For more experienced home brewers and those looking to improve their barista skills, the smaller sieve lets users brew barista style. The pressure in this sieve is built up based on grind size and tamp. The high pressure frothing wand provides powerful steam/froth for delicious milk specialties.
Tips for making frothed or steamed milk for cappuccino and latte:
For frothed milk immerse only the tip of the steam wand, so that it is just slightly breaking the plane of the milk in the pitcher. Turn the steam control knob to the steam icon and tilt the pitcher at a 45°, making sure to keep the tip of the wand just below the surface of the milk. Try to create a 'cyclone' with the milk so it spins rapidly for about 30-40 seconds. When the milk has doubled in volume, sufficient froth has been created. Now insert the wand deeper into the milk to heat until desired temperature is reached (milk can scorch when heated to a temperature above 170°)
For steamed milk, remove the black frothing sleeve and simply submerge the tip of the wand about half way down into the pitcher. Turn the Steam Control Knob Towards the steam icon. Once steam starts to be produced slowly move the pitcher around to evenly heat the milk to around 165°-170°.