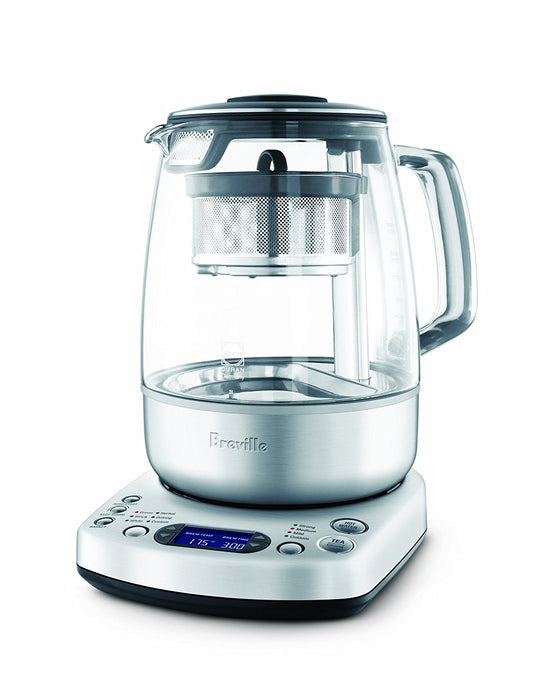 Breville BTM800XL One-Touch Tea Maker
Kitchen appliances designed to inspire people to produce perfect food and beverage results in their own homes with ease. From espresso machines to food processors, the innovation in each appliance delights. Breville makes the process a pleasure and the end result perfect, every time.
the Tea Maker by Breville, BTM800XL
Never over-steep your tea again.
Different tea varietals require different temperatures and steeping times to bring out their unique flavors and aromas. Simply press a button and watch as the basket descends gracefully into the water. Set the timer and wake up to your favorite brew.
Special Features of the Tea Maker:
Automatic Tea Maker

Auto Start and Keep Warm

Strength Button

Infusion Perfection
All Types of Tea

Pre-programmed 1-touch functionalities and customizable settings create ideal brewing conditions for Black, Green, White, Herbal and Oolong teas.

Auto Start and Keep Warm

Set the timer and wake up to your favorite brew, steeped and waiting for you. It will automatically be kept warm for up to 60 minutes.

Strength Button

Determine your brew strength - mild, medium or strong - with the touch of a button.

Hot Water Boiler

Need to boil water for another reason? No worries, the Tea Maker will boil hot water for other drinks.
Product description
Relaxation from Start to Finish The Breville Tea Maker is a revolutionary tea experience. The fully automated tea basket moves down, then up, gently agitating the leaves to precisely infuse your tea. Push the basket button and watch the basket cycle in and out of immersion. Seeing is believing. Different tea varietals such as black, green, white and oolong require exact water temperatures and controlled brew times to allow their unique flavors and aromas to develop during brewing. The Tea Maker eliminates the guesswork so you can enjoy a perfect cup of tea, every time. Breville One-Touch Tea Maker: Tea Basket Cycle auto lowers and lifts tea to brewAuto Start begins brew at pre-selected timeVariable Tea Strength controls steeping timeVariable Temperature for all tea varietalsAccurate Temperature Sensor with real-time displayDimensions: The dimensions are 10.7 x 6 x 11 inches.A Closer Look: Fully programmable for all types of tea, water temperatures and steep times. The moving tea basket allows water to circulate freely around the individual tea leaves for maximum infusion. Set the timer and wake up to the aroma of your favorite brew. The German-made Schott glass kettle is durable and stain resistant.Take Care: Clean with a water and vinegar solution on the Hot Water setting.Made in the USA or Imported
---