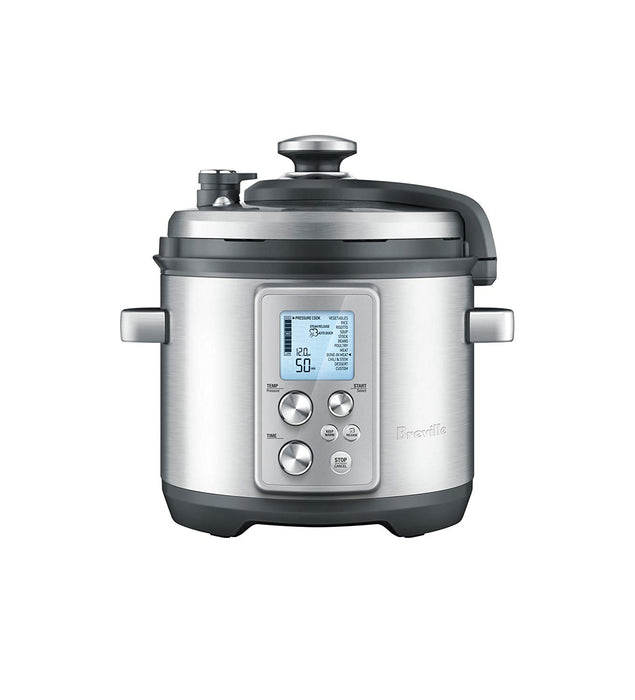 Breville BPR700BSS The Fast Slow Pro, 6 Quart, Silver
Product DNA
Pressure Cook or Slow Cook - It's Simple and Easy

11 Pressure cook settings plus a custom setting to suit your favorite recipes. High or Low Slow cook settings from 2 - 12 hours. Keep Warm function turns on after cooking, so food is ready to serve when you are.

Precise Pressure

Dual sensors at the top and bottom monitor ingredients for more accurate temperature and pressure control, while the hands-free steam release automatically varies across foods to maximize flavor and texture.

3 Way Safety System

Safety locking lid, hands-free auto steam release, and safety valve. We eliminated the pressure from pressure cooking with the hands free auto steam release. Keep your hands out of the way of any releasing steam. The cooker automatically sets the correct release method for Quick, Pulse or Natural for the best results.

Interactive LCD Screen

Customize your cooking: Choose Pressure Cooker, Slow Cooker, Sear, Sauté and more. Color changing LCD tells you when the cooker is pressurizing, cooking or releasing steam.
Easy to Clean

. Wide wrap-around moat catches condensation drips for a mess-free clean-up.

Accessories Included

- Stainless Steamer Basket: cook proteins, vegetables and seafood in minutes.

- Stainless Rack: supports the steamer basket and also raises food out of the cooking liquid.

- Appliance Science Recipe book with 41 inspiring recipes.

Dishwasher Safe Removable Lid

With easy fitting seal for hassle free assembly and cleaning.

Automatic Settings

- Hands-free

- Steam Release Mode

- Auto Quick

- Auto Pulse

- Natural